SUCLAB
2022 cheapest Customized Made laboratory desks and workstations As Clients Lab Room
2022 cheapest Customized Made laboratory desks and workstations As Clients Lab Room
The series are economical
laboratory desks and workstations,
whole wood structure. Combining laboratory scene with practical necessity, the design center of our company progresses specialized program and design. We can equip medicine frame, dry rack,laboratory power source, eyewash equipment,universal exhaust hood (bracket),pp sink, PC faucet, stopcock of gas and liquid and so on . The cabinet is stable and drawer is smooth. The top is specialized for laboratory, original imports from occident, with excellent security and corrosion resistant. The color and size is optional for the customers. Combining more choices and humanization design will make your space more flexible. And it will make your circumstance more practical and comfortable.
laboratory instrument test worktation have special demands for the worktop and the special process of the surface.
such as
laboratory desks and workstations
materia we should consider the type of
laboratory to choose.SUCLAB senior designer specialized in
laboratory design above 20 years,they will provide the most profesional service for your laborator.
Laboratory Desks and Workstations Specification / Models
worktop of lab furniture you can choose:

a. solid lab-grade phenolic resin (12.7mm/14.6mm/16mm/17mm/19mm thickness )

b. epoxy resin (15mm/19mm/25mm thickness)

c. ceramics ( 20mm thickness )

d. stainless steel( 25mm thickness )

e. compact(16mm thickness )

f. Trespa( 13mm/16mmthickness )

g. plywood( 25mm thickness )

h. tempered glass( 12mm thickness )

i .colour: white,grey,light gray or specified by customers.

j.dimension: standard size :running lenth * 1500 *850 /900mm or custom-made.

k.structure of laboratory you can choosed: C-Frame/H-Frame/floor mounted. It selects 40*60*1.5/1.8 square steel,epoxy resin powder paint.

l.base cabinet: cold-rolled and welded steel cabinet body construction provides strength and durability. Electrostatic epoxy applied powder coat paint system for superior corrosion resistance. Full height removable back provides full access to service chase.
1. Tabletop (solid chemical-resistant laminate board or chemical-resistant surface laminate ) Central Reagent Frame (steel structured, coating with epoxy polyresen power baking varnish)
2. Black PP –water gutter (corrosion resistant performance to strong acid and strong base)
3. White Polycarbonate Three-way faucet (resistance to strong acid& alkali)
4. Dry Rack (combining engineering plastic dry rod with material of acid and base-resistance)
5. Emergent Eyewash Equipment
7.
Laboratory desks and workstations
Wood body of Cabinet (double-sided melamine surface laminates)
8. Grass no –noise slide guide imported from Germany
9. Grass hinge imported from Germany
10. Bow-shaped stainless steel handle

11. Base(80 mm High, equipping imported adjustable base with corrosion-resistance)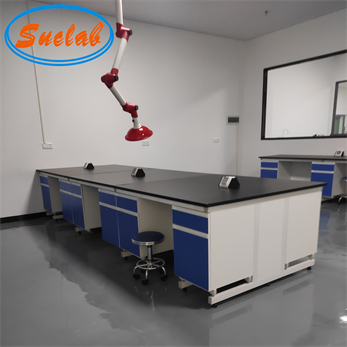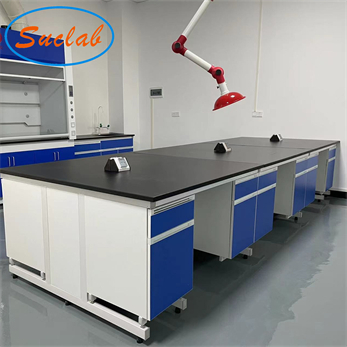 laboratory desks and workstations:

Lab laboratory desks and workstations size: 1000*850*750mm, Laboratory desks and workstations materials: steel wood,Laboratory desks and workstations delivery date:15days,Laboratory desks and workstations color: customized, laboratory desks and workstations using:chemical laboratoryLaboratory Casework With or school or hospital laboratory using,laboratory desks and workstations wood box, laboratory desks and workstations MOQ:5pcs,laboratory desks and workstations accessories:eye wash,reagent shelve,fume exhaust and etc, laboratory desks and workstations specification:acid and alkali resistance,corrosion resistance,chemical resistance,laboratory desks and workstations top: phenolic resin /epoxy resin/ceramic worktop

Your cart is currently empty.