SUCLAB
Customized Made Chemical Laboratory Workbench Lab Cabinets Manufacturers for Hospital & School Laboratory
Customized Made Chemical Laboratory Workbench Lab Cabinets Laboratory Wall Benches With Shelves Manufacturers Suppliers

Specifications:
Lab Furniture

Lab Cabinets Manufacturers
size: standard size 1000*750 (/1500) *800 edge / central station
A:desktop (optional):
worktop : use 12.7mm thick phenolic resin top
2. 13mm thick plate
3. adopt 16mm thick epoxy resin board
4. adopt 20mm thick ceramic plate
5. by Wilsonart 12.7mm thick plate Bai grams
Frame: using 40*60*1.8mm steel, surface after pickling, phosphating, uniform grey epoxy coating, chemical antirust processing, acid and alkali resistance, load-bearing performance, long service life. Each group of independent test bench can be equipped with open circuit safety protector, so that each test stand can independently control the power supply.
7. Lab Cabinets Manufacturers Manufacturers Cabinet: the E1 16mm thick double-sided grey high quality environmental friendly melamine plate; all can meet the high-quality PVC edge waterproof processing, all board adopts detachable three in one connection, stable structure, good bearing performance and easy to use in the laboratory for demolition, the special working environment.
8 .Multi-functional Function column equipped with central lab bench is a highlight and necessary
element in modern laboratory. It offers complete service combing water, various gas and
electricity etc provide convenience to operators. Also it simplifies lab construction work by
offering enough space for various systems to be located in column with divided design.So all
systems can be well organized and achieve effectively distinguish various pipeline
arrangements.
Description about lab cabinets manufacturers:
As a main component of lab cabinets manufacturers,the island bench is suitable for the middle position
of the laboratory and is the main platform for experimental activities.
It is suitable for multi-functional laboratory and can change various experimental environment
at will.

Specification: 4500mm x 750mm x 850/900mm

lab cabinets manufacturers Worktop Material:According to customer requirements (Phenolic Resin/Epoxy Resin/Trespa/
Stainless steel/Ceramic worktop etc.Cabinet body is made up of 1.0mm cold rolled/galvanized
steel sheet, cutting Laser and bending production, with well performance in weight-bearing
and long lifetime.
lab cabinets manufacturers Door with double layer design and embedded with sound isolation material.Door and drawer
with collision-proof pad.
lab cabinets manufacturers Drawer Rail: With brand three-joints model, easy to slide, less noise.
Hinge: stainless Steel 304 material, anticorrosion with 180 degree opening and self-closing
function is available.
lab cabinets manufacturers Construction type: floor standing/movable.Steel frame(C-frame/ O-frame/H-frame with hanging
cabinets. or steel frame with movable cabinets.
lab cabinets manufacturers Multi-functional column is specially suitable for movable central laboratory furniture in order to
change arious experimental working environment.
Lab Cabinets Manufacturers are designed and manufactured to offer unmatched quality, value, and durability to provide superior performance for today's lab environments.
Lab Cabinets Manufacturers Details:
1.chemical laboratory workbench
2.Certification:ISO9001, ISO14001, OHSAS18001
3.Epoxy resin spraying
4.Resistance to acid-base
Features of the Chemistry Laboratory Equipment:
1. European model with better appearance.
2. Excellent weight capacity with more than 100KG.
3. High quality accessories with famous brand.
4. Nice appearance with excellent process and finish.
5. Lab Cabinets Manufacturers quality is higher than our normal type. It's with high quality accessories, thicker material,excellent processing on production, better coating, better weight capacity etc.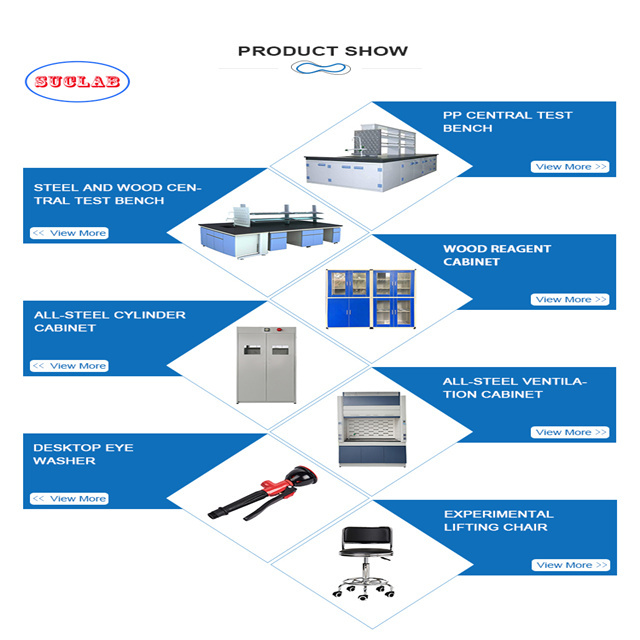 Your cart is currently empty.