SUCLAB
laboratory furniture/laboratory furniture manufacturer/laboratory furniture suppliers/laboratory furniture design
laboratory furniture/laboratory furniture manufacturer/laboratory furniture suppliers/laboratory furniture design

Laboratory Furniture Specifications:
All steel structure; cabinet with 1.2mm cold-rolled steel plate bending, stamping, surface after degreasing, pickling, phosphorus into anti rust treatment, then electrostatic powder spraying EPOXY protective layer of acid and alkali corrosion resistant surface treatment, surface using 12.7mm solid physiochemical board panel, the circumference edge grinding processing, corrosion resistant, acid and alkali resistance, resistance, wear-resistant, anti static, antibacterial, flame retardant, particularly suitable for chemical, physical, biochemical, clinical room table. Holding a special mould laboratory molded PVC handle, accord with human body engineering standards; hinge adopts 304# stainless steel; guide rail adopts 16 inch wide plate three section type ball mute slide, surface galvanized processing; professional mold composite structure; adjustable screw is M12*50mm, the outer cover for an injection molding die, bearing, moisture-proof, anti slip damping, antibacterial, corrosion resistance, the indoor floor; adjust the cabinet height; beautiful appearance, humanized design.
Modern chemical China steel lab furniture workbench details
Laboratory Furniture
Model Name
Modern chemical China steel lab furniture workbench
Table
Made with 12.7mm thick solid physicochemical board by lab special use,
adding edge to 25.4mm; resistant to corrosion of strong acid-base and
organic solvent, tough&durable.
Body
Coated with Epoxy resin powder which's solidified by high temperature
baking, strong adhesive force, surface hardness has strong corrosive
resistance; aesthetic appearance.
Door sheet
Bevel type, main part uses 1.0mm thick Electrolytic steel plate of high
quality, solderless connected, can be removeable, with shock pad.
Laboratory Furniture
Handle, hinge
Stainless steel handle, Guangdong tung tai DTC hinge with beautiful
appearance, no noise when open/close; anti-rust and high corrosive nature.
Adjustable feet
Use 10mm dia. Inserted molding material, prevent from shake&moisture;
anti-corrosion, can adjust body height(0-30mm) based on floor level
Craft process
All steel board welding is done after coated with Epoxy resin powder,
smooth view and no welding point; safe & applicable water, electricity, and
gas circuit; concealed installation; equipped with service hatch in back board
of the body.
Type:

Office Furniture, Lab Furniture

Specific Use:

Filing Cabinet

General Use:

Commercial Furniture, Commercial Furniture

Material:

Metal

Size:

3000L*1500D*850H

Place of Origin:

Jiangxi China (Mainland)

Brand Name:

SUCLAB

Model Number:

SUCLAB002

work top:

epoxy resin chemical tops

Metal Type:

Stainless Steel

company style:

manufacture

standard size:

3000L*1500D*850H or Customized

Function:

work station for all labs

structure:

C-Frame whole steel

certificate:

CE,ISO9001,ISO14001

Application:

hospital/research institution/school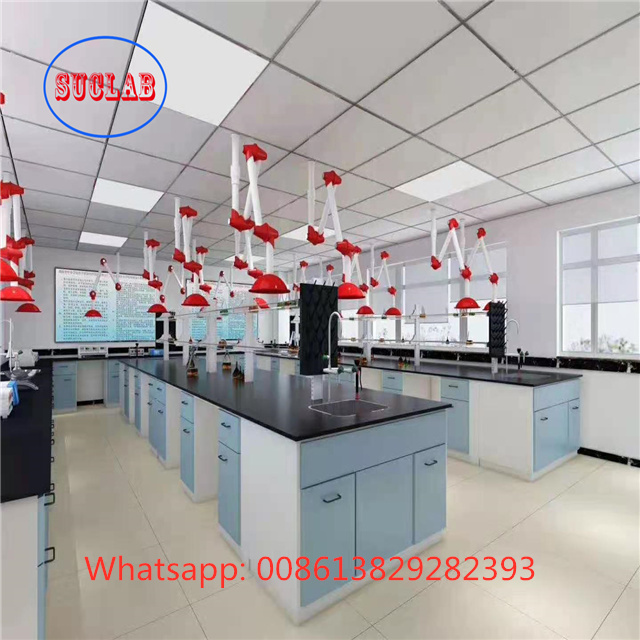 lab furniture:

Laboratory furniture size: 1000*850*750mm,Laboratory furniture materials: steel wood,Laboratory furniture delivery date:15days,Laboratory furniture color: customized,Laboratory furniture using,Laboratory furniture wood box,Laboratory furniture MOQ:5pcs,Laboratory furniture accessories:eye wash,reagent shelve,fume exhaust and etc,Laboratory furniture specification:acid and alkali resistance,corrosion resistance,chemical resistance,Laboratory furniture top: phenolic resin /epoxy resin/ceramic worktop

Your cart is currently empty.