laboratoryworkbench
Laboratory Table and Chairs and Laboratory Table and Chairs P rices for Laboratory Table and Chairs Manufacturers
  Laboratory Table and Chairs Manufacturers
Product Name

 Laboratory Table and Chairs Manufacturers

Material 

Steel Wood 

Size

General Customization For 3000L*1500W*850H(MM)

Bench Tops

Use 12.7mm thickness solid core physiochemical board imported from American Wilsonart brand;

With resisting strong anti acid, anti high temperature and various organic reagents, scratch resistant performance is good, never the bending deformation.

Frame

Use GB high quality 40x60mm hollow steel pipe welded, through pickling, phosphating, high temperature epoxy resin coating processing, not easy to fall off.Beautiful shape, fashion design, convenient installation, is particularly suitable for harsh environment laboratory.

Cabinet 

Use imported 16mm thick double-sided adhesive pressure melamine MDF, PVCwaterproof edge sealing around section, with a waterproof, anticorrosive,mothproof performance.

Door Panel and Drawer Panel

Use imported 16mm thick double-sided adhesive pressure melamine MDF, PVCwaterproof edge sealing around section, with a waterproof, anticorrosive,mothproof performance.

Handle

Use a handle shaped by PVC.

Hinges

Use DTC105 DEG hinges.

Adjustable Footing

Use special stainless steel laboratory adjustable footing, the adjustment range is less than or equal to 35mm, the ground is convenient for cleaning.

Slide Way

Use DCT three sections slide way.

Reagent Shelf

The main is used with GB high-quality 40x80mm thick hollow steel, through pickling, phosphating, then through powder spraying, and finally baked at high temperature. 1.2cm thick plate and steel cabinet frame made of tempered glass with built-in 12mm.

Advantage

To clean easily and good physical performance.

Weight Capacity

More than or equal to 150kg

Optional

Bench tops,cabinet,door and drawer panels are available in multiple colors. 

Packing

Normal carton packaging.
Phtos of Laboratory Furniture:
Product use
Used in school laboratories, hospital laboratories, testing laboratory, chemical laboratory, food plant laboratory, electroplating factory lab, paint factory laboratory, laboratory water treatment plant and other places.
1. Countertop: Acid and alkali resistance,not easy to deform and fade.
2. Cabient: Beautiful and generous,bearing capacity and impact resistance.
3. Drawer: Three section silent rail,aluminum alloy or cold rolled steel handle,long sevice life.
4. Foot: 5mm adjustable foot,nylon or stainless steel material.
5. Type: Floor mounted,C-frame or H-frame Structure with cabient.
Product Photo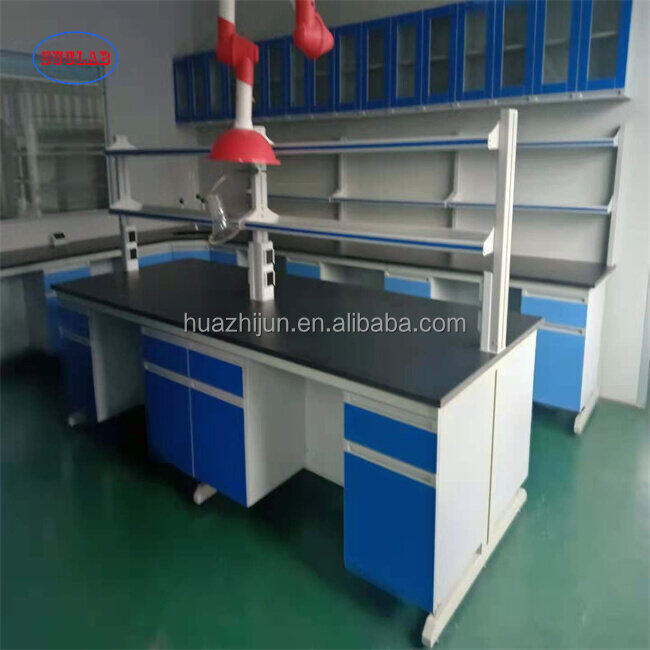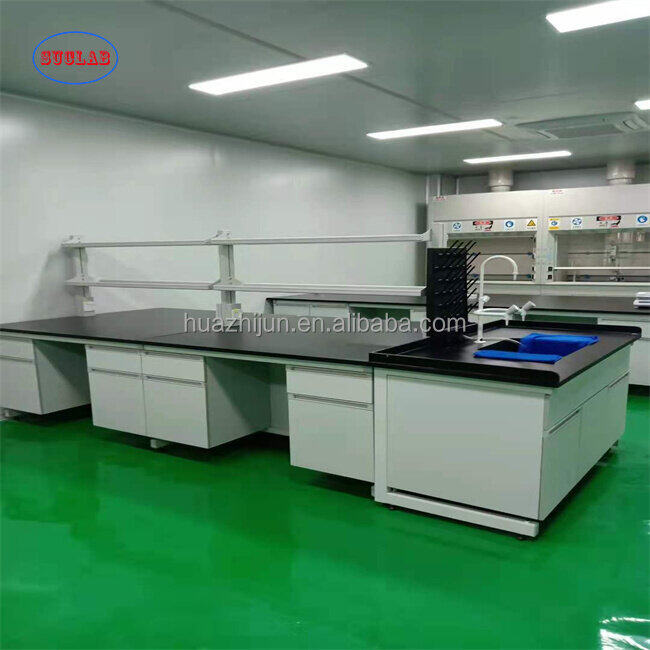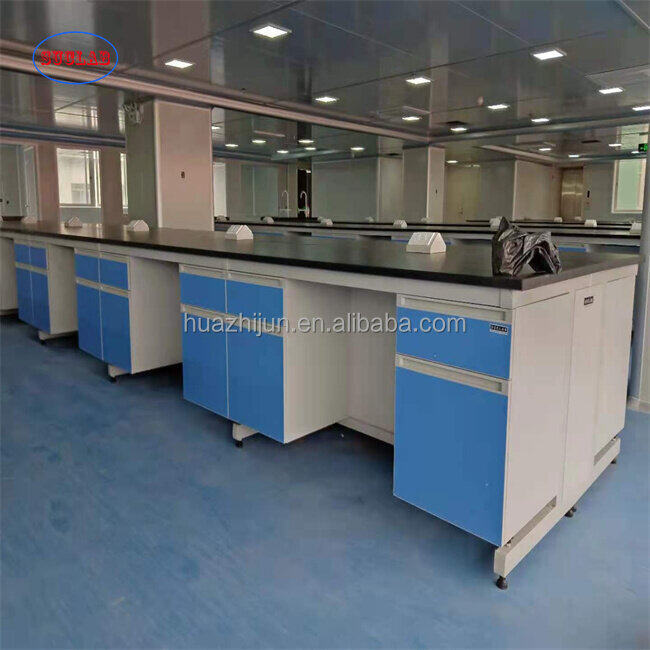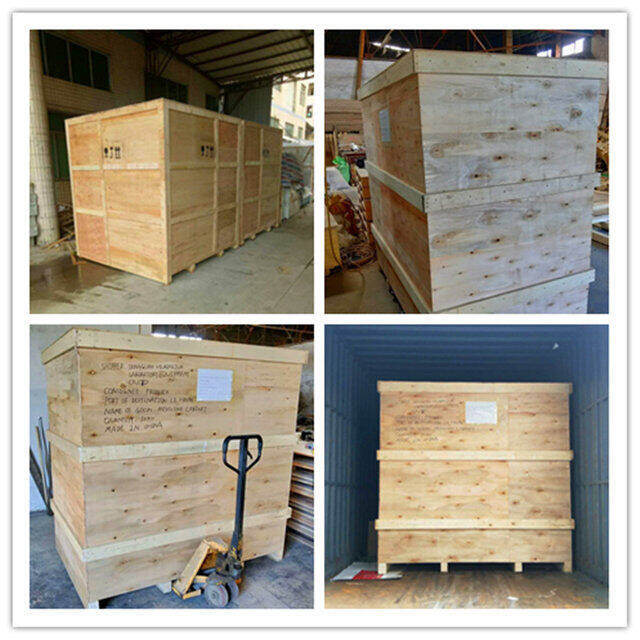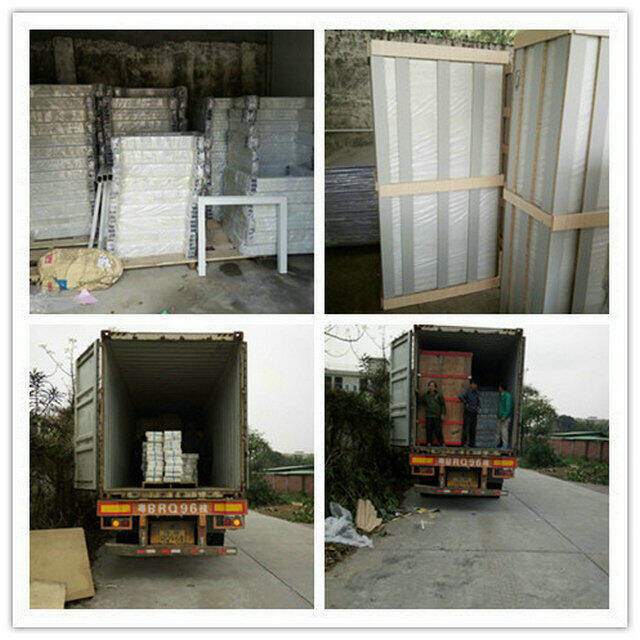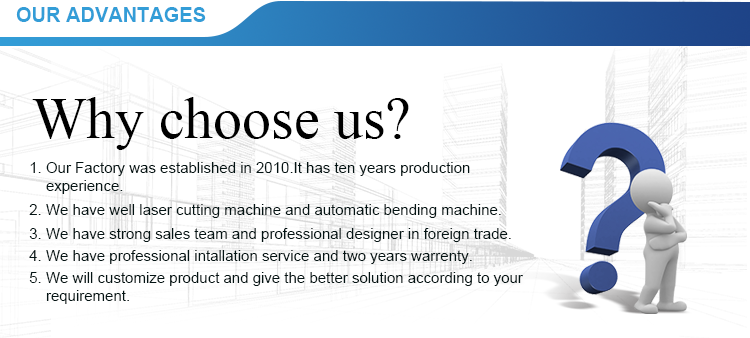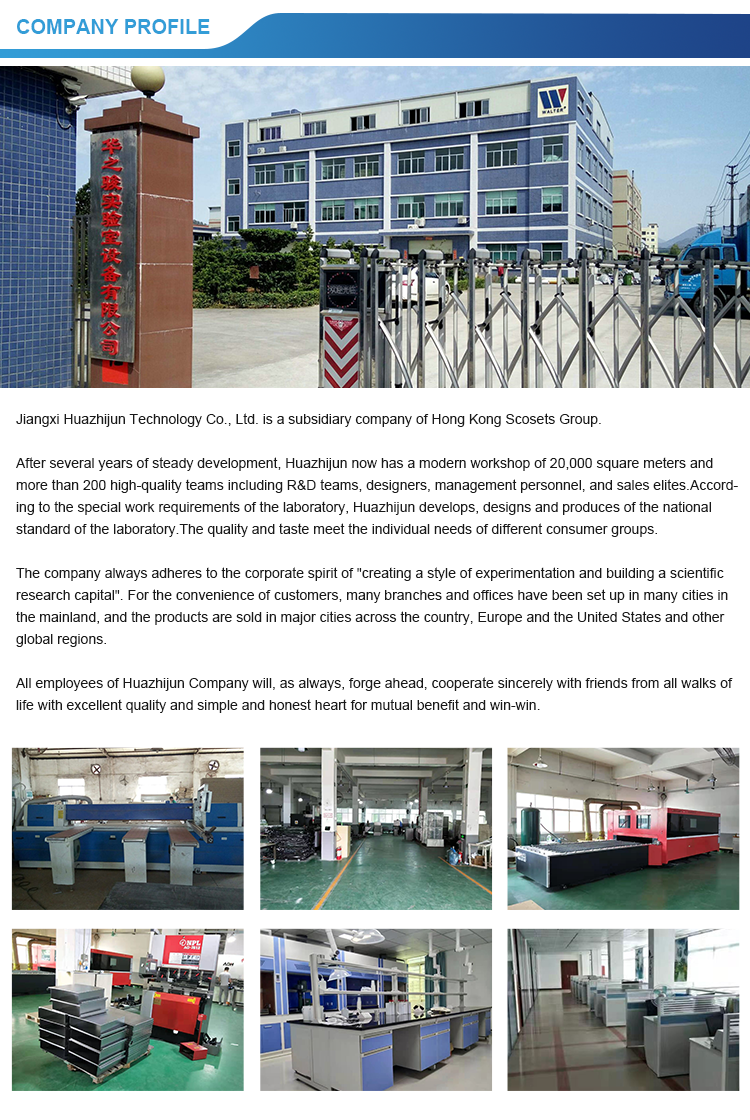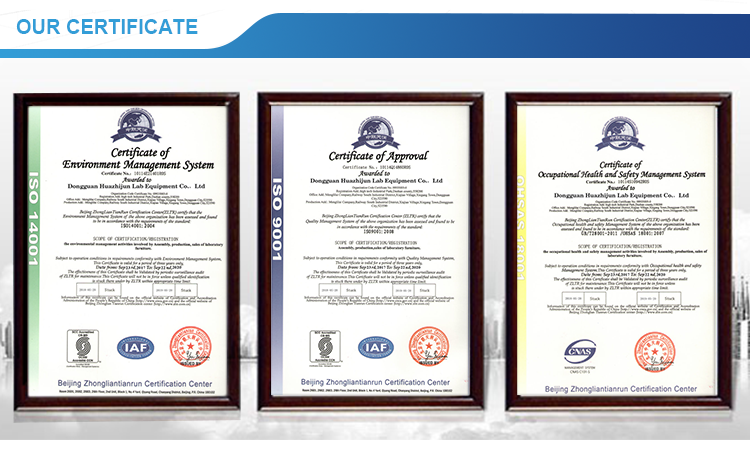 1.What is Minimum Order Quantity? 
At least 1 set/sets 
2.Do you have products in stocks? 
Yes, Laboratory fume cupboard, base cabient, storage cabinet and fitting.
3.How long is delivery time of goods?
At least 7 or 15 workdays after receiving the deposit.
4.What are the payment methods?
50% deposit in advance by T/T, 50% balance before delivery by T/T.
5.How long is the warranty?
About 2 years after delivery.
6.Do you provide overseas installation services?
Yes, we will arrange professional installer to install the goods according the requirement of our customers
General Use:

Commercial Furniture
Type:

Laboratory Furniture
Mail packing:

N
Application:

Office Building, Hospital, School, Other, Laboratory Field
Design Style:

Modern
Material:

Metal, Steel Wood
Metal Type:

steel
Place of Origin:

Guangdong, China
Brand Name:

SUCLAB
Model Number:

SLB01
Size:

L*750/1500*850/900mm
Worktop:

19mm Thickness Epoxy Resin
Color:

White,Blue
Product name:

Lab Work Bench
Function:

Work Station
Structure:

C-frame
Accessory:

Socket
MOQ:

1 Set

Your cart is currently empty.